A rare portrait from the 1930s

Recently, I was tidying up the Louise Brooks Society blog (I hope you like what I have done with the place) when I noticed it was coming up on a milestone.
Today's post marks the 3400th blog.
I started blogging back in August 2002, first on LiveJournal, and then on Blogger starting around 2009. I managed to transfer the most interesting pieces from LiveJournal to Blogger, and have been writing and blogging and posting all along. Admittedly, those very early pieces were infrequent and sometimes slight. In 2006, however, during the Louise Brooks centennial, I posted 290 times. There was a lot to report. In 2011, I posted only 69 times. The best year was 2014, when I posted 306 times. I can't imagine how I did it. The pandemic has certainly slowed things down, as there are fewer screenings and news items to write about. My goal these days is to focus on more substantive pieces and newly found material, and to post about 100 times a year. I figure it all adds up.
The LBS blog has hundreds of followers. IF YOU ARE NOT ONE, SUBSCRIBE FOR FREE IN THE COLUMN ON THE RIGHT. Since 2009, according to my hit counter, the Louise Brooks Society blog has been viewed more than 1,665,000 times by individuals from all around the world. That is pretty cool. Check the flag counter below or in the right hand column to see if your country is represented. Not surprisingly, English speaking countries lead the roll call of visitors. And of course, France and Germany (where LB made a few films) also show many visitors. It pleases me that Russia and countries in Latin America also show up, as does India. But come on New Zealand, you can do better! And so can you, Poland!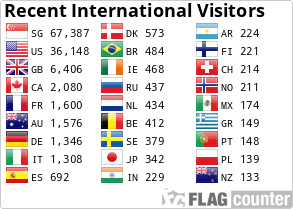 As many longtime readers of this blog know, my other online writings about Louise Brooks have appeared on examiner.com, Huffington Post, SFGate (website of the San Francisco Chronicle), Open / Salon, Pop Matters, and recently Film International. And what's more, my articles have been tweeted about by the likes of Roger Ebert (twice!), Neil Gaiman, and others. That is really cool. In 2018, I collected a number of my best articles and blogs into an illustrated, 296 page book, Louise Brooks, the Persistent Star. Why not ORDER a copy today!

Just recently, I noticed one of my past blogs caught the attention of Greil Marcus back in 2015. Writing on BarnesandNobleReview, the famous critic and author singled out a 2012 blog I penned on Louise Brooks and the Kansas-born artist Bruce Conner. Here is a screen capture of Greil Marcus' blog about my blog.
Again, I was pleased by the attention. The Louise Brooks Society blog is a proud member of the CMBA (the Classic Movie Blog Association). I was also heartened back in 2018 when the Classic Movie Blog Association profiled the LBS blog and even interviewed yours truly. That is certainly another highlight in the life of the Louise Brooks Society blog. The recognition is nice, and so is the feedback.
My sincere thanks to the blogs which link to the LBS blog (some are linked in the right hand column), and to the bloggers (including Immortal Ephemera), online publications (including Shelf-Awareness), and websites (including Columbia University Press) which have written about its various entries. I will end this pat on the back with another little seen portrait of Louise Brooks from the 1930s. Long live Lulu!

Another little seen portrait of Brooks from the early 1930s